Common mode on coax; the dreaded situation where your feed line is part of the radiated signal. I wonder if that is my "current" problem? Allow me to entertain you with my latest discovery.....
I currently have up two verticals, raised bases with elevated radials. One "cut" for 20 and the other "cut" for 40. Both "resonate" swr wise lower than intended. Too long.... wish I had that problem elsewhere in life. But I digress.
So anyway, I tire of changing the feedlines when I want to change bands so I had this coax switch left over from Lord knows how long ago. Probably from the 11 meter days. I put it in line and viola, it screws with my "match" bigtime. WTF? I have one of these little gems to have fun with as well as visualize output power making it actually out.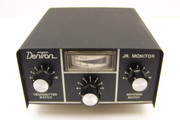 The little meter gizmo is a handy feature indeed. It has shown me how the RF out hasn't always followed conventional expectations. Meaning this...
the 20 meter vertical lets more zap into the ether on 15 & 10, while the 40 meter vertical lets more zap into the ether on 12, 17, 20, 30 & 40. Not exactly how I visualized whirled peas. Boy, put that switch in line and the match gets all effed up. Maybe the switch is to blame, and I wouldn't be surprised if that were the case. It ohms out good, but I spent too much time mapping "resonance" out for the Ducie Island DXpedition so for now I suppose changing bands by coax is how its going to be.
Ideas?